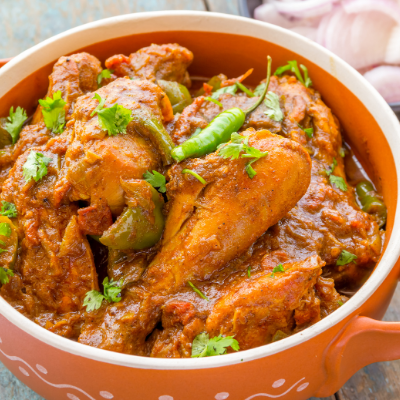 Ingredients
2 chicken legs cut in half
1/4 cup coconut cooking oil
1 piece cinnamon stick
3 pieces star anise
3 pieces cloves
3 pieces cardamom pods
3 pieces shallots thinly sliced
5 cloves garlic thinly sliced
20 g ginger thinly sliced
2 sprigs curry leaves
24 g chicken curry powder mixed with water to form paste
1/2 white radish cut into large chunks
1/2 tbsp boxed coconut milk (santan)
100 ml coconut cream
Himalayan pink salt
Instructions
Heat oil.
Add cinnamon, star anise, cloves, and cardamom. Fry until fragrant.
And shallot, ginger, and garlic. Saute until browned.
Add curry paste. Stir-fry until dried and darkened.
Add chicken. Coat with curry paste.
Cover with water.
Add white radish. Let simmer until chicken is cooked.
Add tamarind paste, coconut cream, and salt. Mix well.
Serve!
Recipe Notes
Each serving totals up to approximately 25.5g fat, 6.7g net carbs, and 18.6g protein. Calories per serving: 338.

The net carbs value is derived from the subtraction of fiber (1.1g) from the total carbs of this recipe (7.8g).



Macros are calculated via Carb Manager and are provided for rough reference only. To ensure accuracy, calculating the macros on your end is highly encouraged.